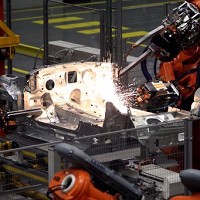 Britain is making many more cars than it was this time last year, according to the latest official SMMT figures.
A resurgence in exports buoyed the industry over September, says the Society of Motor Manufacturers and Traders.
UK drivers buying a car continue to support their home market. The domestic and export markets have seen respective increases of 20.1% and 13.9% compared to September 2014 - giving an overall hike in output of 15.5%.
The opening nine months of 2015 also recorded a 3.3% rise on the last year's corresponding figure.
Mike Hawes, chief executive of the Society, says the recent improvement in exports is "particularly encouraging" in areas including mainland Europe.
He says the country's recent production gains have been hard-earned and continued innovation and investment is required to maintain that momentum across the world.
The figures show the UK's car production factories have returned to full throttle after their expected summer holiday season, Mr Hawes adds.
The worth of the British motor manufacturing industry to the country's economy is emphasised by the fact it directly employs around 160,000 workers. The trade also indirectly employs over 799,000 across offshoot industries.
In addition, the car sector is responsible for a turnover of over £69.5 billion and 11.8% of Britain's overall exports. An annual total of £2.4 billion is invested in car-related research and development.
Over 30 UK-based vehicle producers make over 70 different models, backed by roughly 2,500 component suppliers. The country also boasts engineers who are among the best on the planet.
Copyright Press Association 2015