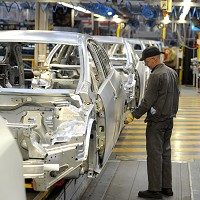 Latest figures show that the number of cars produced in the UK has fallen for the first time in 13 months.
The total number of vehicles built in August was 86,185, an 8.9% fall compared to July. August is traditionally a fallow month for production as firms tend to use the holiday period for maintenance work, the Society of Motor Manufacturers and Traders (SMMT) said.
Experts believe that the UK's output will rebound in September even though doubts persist over demand from the Euro-zone. Manufacturers are hoping that other overseas markets will make up for the shortfall.
Paul Everitt, the chief executive of SMMT said: "Continued weak demand in Europe is a concern, although significant new investment and stronger demand from better performing global markets will ensure UK output continues on an upward trend."
The total number of car produced in the UK this year is 955,084, which is a 12.7% increase on the figure for 2011.
With an increased level of traffic on the roads, the value of goodbreakdown cover could be higher than ever.
Copyright Press Association 2012