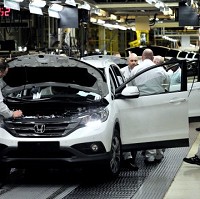 The thriving British car industry has reported record-breaking turnover figures.
Last year's £69.5 billion figure emphasises the UK's increasing prominence on the worldwide automative stage.
Tuesday's announcement came in the Society of Motor Manufacturers and Traders ' 16th edition of its yearly Sustainability Report.
The society found that production, car sales, export values and jobs were all up. It also reported that UK vehicle production's carbon footprint had markedly fallen.
Drivers buying a car are increasingly likely to get one built in Britain, with nearly 1.6 million UK units made last year.
The 1.53 million-unit mark was the highest for seven years with a growing amount of vehicles manufactured for the UK's new car sector. This market expanded to 2.48 million units in 2014 - a rise of 9.3%.
If things continue as they are then British car productivity is likely to reach a record 1.95 million units in 2017.
All these figures prompted the chief executive of the SMMT, Mike Hawes to say that the British car industry should be "proud" as it goes on setting fresh benchmarks.
That UK car manufacturing is getting more efficient can be gleaned from the latest vehicle-to-worker ratio figures. High-tech advances mean that the five-year period to 2014 saw 11.5 units typically produced by each worker in the car industry. This was in contrast to the 9.3 vehicles-per-person made between 2005 and 2009.
But larger production volumes have not brought higher pollution volumes. In fact, car manufacturing-generated landfill waste dipped by over a quarter (26.3%) last year. This figure has plunged by 92.3% since the year 2000.
Furthermore, energy and water usage dropped by 10.4% and 10.7% respectively.
Average CO2 emissions for each unit made dropped by 5% between 2013 and 2014.
Safety figures also improved, according to the SMMT.
The proportion of incidents for every 1,000 staff in the workplace plummeted to a record lowest of 2.2. This was 83.9% down on 12 years earlier when records first begun.
Mr Hawes said that whether the UK's automative sector went on growing in a very "competitive" worldwide market would depend on the backing of the regulatory and economic environment.
Copyright Press Association 2015