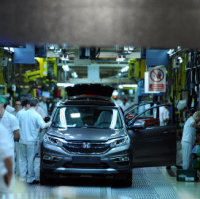 The number of cars rolling off Britain's production lines surged to almost 150,000 last month, fresh industry figures reveal.
A big rise in demand from European motorists has helped drive the increase, according to the Society of Motor Manufacturers and Traders (SMMT).
More than 149,000 cars were built at UK factories in April, the figures show, representing a rise of just over 16% compared to the same month in 2015.
That means that the total has now grown for the last nine months in a row.
And April's output takes the total number of cars produced in the UK so far this year to just over 588,000, almost 11% up on the first four months of 2015.
The SMMT figures show that while April saw the number of cars built for domestic motorists drop by 7.8% to 27,602, the total produced for export jumped by 23.7% to 121,732.
The society's chief executive, Mike Hawes, says the figures show that UK car making "continues to thrive".
The domestic market remains "steady", he adds, while demand for UK-built cars among overseas motorists is surging.
Copyright Press Association 2016. Motoring News articles do not reflect the RAC's views unless clearly stated.