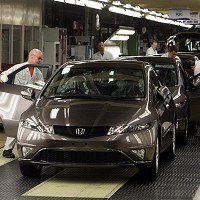 The UK vehicle manufacturing industry experienced heightened export sales during the first three months of the year, selling £6.1 billion worth of cars.
A huge overseas demand for British-built vehicles has meant the country has entered its first trade surplus in cars since 1976.
In the first quarter of 2012, the total value of exports exceeded the value of imports by £561 million - a jump of 20% on the previous quarter.
The increase owes largely to the strong growth in exports to non-EU countries such as the US, China and Russia - which was up by 28.5%. In comparison, exports to EU countries also increased, rising by 9.5%.
This change in fortune follows substantial investment in the UK from car manufacturers who put in £4 billion over 18 months.
The Japanese car company Nissan recently confirmed construction of two new models at its Sunderland plant, while Honda announced it was doubling production at its main European plant in Swindon.
A Treasury spokesman said: "This is very good news for the car manufacturing sector and for the British economy, and all the more impressive given the tough economic conditions we're seeing across world markets at the moment."
Copyright Press Association 2012