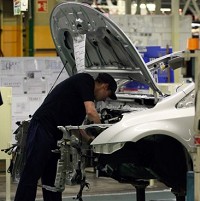 The amount of money spent on UK-built cars by global buyers has doubled in the last decade, according to new figures.
The Society of Motor Manufacturers and Traders (SMMT) says UK car exports generated £24.8 billion in 2013, compared with £12 billion back in 2004.
Speaking at SMMT's first ever international automotive summit at Canary Wharf, chief executive Mike Hawes said the figures represent the "thriving nature" of the domestic car industry as well as the country's increasingly positive reputation for world-class engineering.
The figures show that the average wholesale value of each exported car more than doubled between 2004 and 2013, from £10,200 to £20,640.
This means that over £47,000 was generated by UK car exports in every minute of last year.
Last year over 1.5 million cars were made in the UK, about 80 per cent of which were exported - half of which were sold in the rest of the EU.
It is thought that by 2017, a record-breaking two million cars will be produced in the UK.
Copyright Press Association 2014