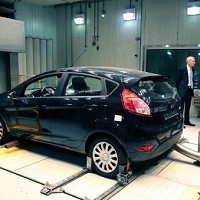 Of all the challenges facing the incoming Government, figures suggest the UK car industry needn't be one of them.
The Society of Motor Manufacturers and Traders ' (SMMT) General Election day statistics show that new registrations jumped for a 38th consecutive month over April, to 185,778 vehicles.
This represented the best-performing April for 10 years and a rise of 5.1% on March's volume.
The amount of new units sold for the year so far was up on April 2014 with 920,366 registrations - a climb of 6.4% on the same period in 2014.
Thursday's voters went to the polls amid an economy that was buoyant in the UK motor sector. Consumer confidence in buying a car from home manufacturers has not been this great since 2003, hot on the heels of a historic first-quarter high for new registrations.
But the upsurge is not expected to stop there. Demand in the months ahead is also predicted to grow with historically low interest rates, curative finance contracts and new products inspiring companies and individuals alike.
The SMMT figures perpetuate the 26-year cycle of new car growth, coinciding with the UK going to the ballot box.
The society's stats show that six of the past nine elections have seen a hike in new vehicle demand in both the quarter preceding and following voting day.
The two exceptions were 2010 and 1992, which both coincided with recessions, while a 2005 downturn was blamed on natural sector readjustment after new peaks three years earlier.
The chief executive of the SMMT, Mike Hawes, says whichever party wins the race to Westminster, they should move swiftly to reassure markets and consumers and maintain economic confidence.
He says the domestic car market's long-term success significantly depends on political and economic stability in the times ahead.
But Mr Hawes is optimistic that the new motor industry, so often a barometer of the country's economic climate, will go on flourishing. Thursday's statistics underscored the present robustness in customer confidence even during such politically uncertain times, he added.
The ever-popular Ford Fiesta once again topped the best-selling charts with 10,294 new registrations in April.
Copyright Press Association 2015