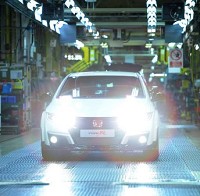 The number of British cars being built shows no sign of slowing - despite the latest official figures relating to the quieter holiday month of August.
More than 1 million vehicles have been built in Britain in the opening eight months of 2015 - representing a 1.6% increase on the corresponding timespan last year.
The Society of Motor Manufacturers and Traders (SMMT) reports that 99,910 vehicles were made by UK plants last month.
This is 40.6% up on August 2014 - although the figure has been distorted by the earlier scheduling this year of the annual summer shutdown.
It continues a buoyant time for the UK car industry.
Last month the Society announced that the amount of new UK car sales topped the 1.5 million barrier during July .
This saw the 41st successive monthly hike in the amount of people buying a car with new registrations.
Mike Hawes, chief executive of the SMMT, says the industry is well placed after enjoying its best year-to-date figures for seven years, including that 1.6% rise in the opening eight months of the year.
Mr Hawes says August's figures have come as no surprise, given the earlier shutdown in July this year making for a flatter time the month before. This helped contribute to a decrease of 22.1% during the corresponding month in 2014.
The summer months are usually quieter, being subject to variations as manufacturing is halted for key upgrades, he added.
The number of cars being exported has dipped by 1%, the SMMT says.
Copyright Press Association 2015
%20http:/www.rac.co.uk/advice/motoring-news/new-uk-car-sales-top-the-1-5m-mark (1.5 million barrier during July)