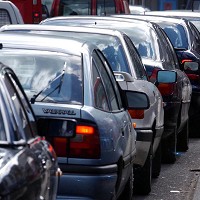 Many people taking summer breaks have stayed in the UK due to the heatwave, increasing traffic on the roads, a study says.
The survey byKwik Fit found that 15.6 million drivers (47%) would stay in this country. And, as the Highways Agency reported that temperatures on the roads hit 40C, the automotive repair firm has produced "keep cool" tips to cope with the heat.
First, make sure your air-conditioning works properly because air con systems lose gas and need recharging every two years.
Beware of a possible false economy stemming from opening windows and turning off the air con to save fuel because drag caused by open windows will lower fuel efficiency.
Check the coolant levels in the engine before starting a journey and, as far as the people in the car are concerned as well as the vehicle itself, make sure there are fluids available.
Covering other basics is also vital, if only for peace of mind, such asbreakdown cover .
Copyright Press Association 2013