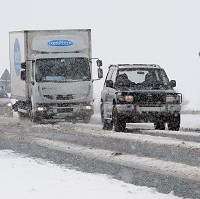 The chilly start to Spring is set to continue with many areas likely to see more snow and freezing temperatures, according to forecasters.
The cold snap could bring snowfalls of up to eight inches in some areas of Scotland and the north of England and temperatures are expected to plummet to as low as minus 15C in the night.
A yellow severe weather warning for snow has been issued for areas in the north of the UK and forecaster Tony Conlan, of the Press Association's MeteoGroup weather service, said most of the snow would fall during the night. He said the temperatures would depend on the severity of the wind and extent of the snowfall, possibly to between minus 10C and minus 15C, but well short of the record of minus 27.2C.
The Met Office is warning that untreated surfaces are likely to be slippery and drivers should expect traffic disruption during the morning rush hour, with accidents andbreakdowns likely before the snow melts.
The worst of the weather is expected to hit the Grampians and the eastern areas of the Southern uplands in Scotland and the Lake District and the Pennines in England, while Wales, the Midlands, East Anglia and even the South East could also have a covering of snow on Wednesday morning.
Copyright Press Association 2013