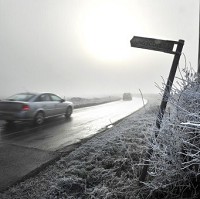 British motorists are being warned that impending cold snap which could bring hazardous driving conditions to large parts of the UK.
High pressure has brought largely settled but freezing conditions to most parts of Britain this week, with many drivers enjoying excellent visibility in the daytime.
But that could all change next week as overnight frosts and wintry showers are predicted to affect most of the UK, which could test even the most comprehensive car insurance policy with tough conditions on the road.
The first few centimetres of snow is expected to be seen over hilly areas in the South East and East England today, while snow is turning to sleet north of the border in Scotland.
Alexi Boothman, forecaster at MeteoGroup, the weather division of the Press Association, said: "Down south will experience mostly rain but some snow is likely to fall on higher ground in areas such as Derbyshire and Lincolnshire. This band is moving south quickly, with clear skies behind this.
"On the whole it will be a mostly dry day for most parts apart from the east and south-eastern parts, where sleet showers will be falling until lunchtime."
Copyright Press Association 2012