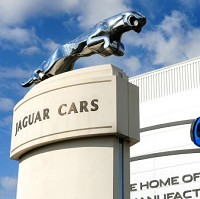 New car sales have slumped across Europe for the 18th consecutive month - with the UK the only major country to show growth.
European car-maker body Acea's new figures show that new registrations fell 10.2% last month.
A 17% decline in March sales in Germany, the continent's largest market, set the trend with a 16.2% fall in new registrations in France, 13.9% in Spain and 4.9% in Italy, while the UK grew 5.9%.
The UK was also the only major market to show quarterly growth from January to March, up 7.4%.
A Europeanbreakdown of the other main markets shows that all suffered a double-digit decline.
These included Spain (-11.5%), Germany (-12.9%) Italy (-13%), and France (-14.6%) as Europe-wide new registrations dropped by 9.8% from January to March, compared to last year's first quarter.
Jaguar (sales up 21.5%) was the top performer across Europe in the first three months of the year.
It was followed by Honda +16.3%, Dacia +14.9%, Land Rover 11.5% and Kia +3%.
Lexus was the worst-performing manufacturer in the same period, sales down by 37.5%.
Acea secretary general Ivan Hodac said 2013 will probably be the worst on record for cars sales in Europe.
Copyright © Press Association 2013