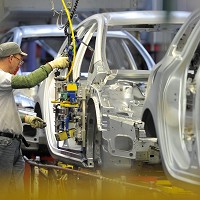 The UK must act quickly to address an impending shortage of skilled workers if it wants to remain one of the best places in Europe to make cars, a new study cautions.
The Society of Motor Manufacturers and Traders (SMMT) study said that UK companies had earned reputations for engineering excellence and quality.
In a breakdown of data, the report showed that UK-based car manufacturers export to over 150 countries, which is an achievement that speaks well of the industry's future.
However, the report, which KPMG put together, cautioned that a potential shortage of skilled labour does pose a risk to the industry.
The demand for skilled engineers is growing with the technological strides made in the car industry and the focus on low carbon production and emissions, the study said.
It also recommended that domestic suppliers to the industry be "reinvigorated".
The chief executive of the SMMT, Paul Everitt, said: "With unprecedented levels of investment committed to UK automotive in recent years, the future for our industry is bright.
"It is clear that domestic suppliers have the potential to benefit significantly from increasing output volumes, but they need the right mix of government support and private investment."
Copyright © Press Association 2012