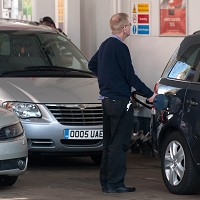 As more and more British motorists decide to buy diesel cars, they will be dismayed to learn that Britain is now the fourth most expensive country in the world for buying diesel fuel, according to new figures.
A survey by Looking4Parking.com for This is Money has shown that drivers are paying a high price for the popularity of diesel cars.
According to the Society of Motor Manufacturers and Traders, in both 2011 and 2012, sales of diesel cars outstripped petrol sales for the first time.
In 2012 there were 2,044,609 cars sold, of which 1,038,679 were diesel and 978,089 were petrol.
In 2013, however, sales so far are fairly even, with diesel accounting for 49.3% of sales and unleaded petrol 49.4%.
Yet current diesel prices are at 141p per litre, and motorists already fighting road tax and car insurance costs, will be further angered by news that 86p of that is made up of fuel duty and taxes.
European countries account for nine of the top ten most expensive regions in which to buy diesel.
Norway tops the list with prices there averaging out at 150p per litre. T
his find contrasts sharply with the petrol market, where Britain has fallen off the list of the world's most expensive petrol-buying regions.
Copyright Press Association 2013