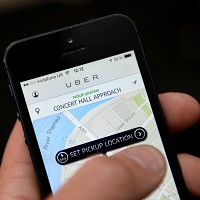 US transport company Uber has welcomed a High Court ruling that its minicab-hailing app is lawful.
Accusations from black cab drivers that the smartphone app constituted a fare calculation meter reserved for use in vehicles used by licensed cabbies were rejected by a judge.
Jo Bertram, of Uber, says the decision is "great news for Londoners and a victory for common sense".
The app, which is operated in London, lets people order a taxi, private car or rideshare through their mobile phone.
Journey costs are calculated by the driver's phone, which uses GPS and external servers to figure out the fare. But Mr Justice Ouseley ruled Uber apps did not constitute taximeters.
London Mayor Boris Johnson has also welcomed the ruling, saying he is "a strong supporter of new technology".
Transport for London (TfL) recently launched a consultation on a series of measures that would tighten private hire regulation in the capital, where numbers of minicabs have risen by 26% over the past two years to 62,800.
This includes the introduction of an interval of at least five minutes between a booking and the start of a journey, to give drivers time to plan an appropriate route, plus a requirement for drivers to pass an English language test and a map reading assessment.
Uber is opposing the proposals, which TfL claims would ensure regulations that are fit for the 21st century.
Copyright Press Association 2015