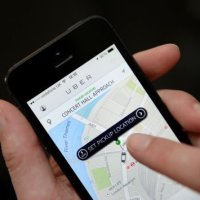 Uber debuts in Wales this week.
The popular taxi-hailing app, which is already widely used in London and other locations, comes to Cardiff on Friday (April 22).
The city council gave Uber a licence to operate at the start of the year.
The service works by linking customers with drivers through a smartphone app.
Uber says a trip from Cathays to Central Station will cost passengers around £4.70.
Uber's London service has constantly been in conflict with traditional black cab operators. Last month taxi drivers dropped a legal action to attempt to reverse an original ruling to give Uber the licence it needed to operate in the capital.
The app service says it has rarely seen such an overwhelming response before a new launch.
Uber says 125,000 Cardiff residents have downloaded its app over the past 90 days.
This is around five times the amount that downloaded it in the same period in Southampton recently.
Uber says that the local council has given private hire licences to every one of its drivers in Britain.
They have all had an enhanced Disclosure and Barring Service check and met other Cardiff licensing stipulations, Uber says. They also have complete commercial insurance.
Uber has drivers in London, Manchester, Belfast, Bristol, Glasgow and 10 other British locations.
Copyright Press Association 2016. Motoring News articles do not reflect the RAC's views unless clearly stated.