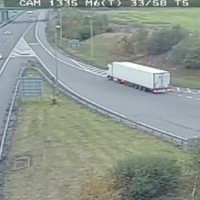 Motorists can now see for themselves the harrowing moment when a Lithuanian lorry driver executed a motorway U-turn in his 40-tonne truck.
Police have posted footage of 51-year-old Leonid Papachin's dangerous rush-hour manoeuvre, following his 15-week suspended jail term last month.
Cannock magistrates also banned Papachin from motoring for one-and-a-half years and told him to pay costs of £85.
He should also face higher car insurance premiums if and when he returns behind the wheel.
West Midlands Police's video shows the haulier trying to rectify his mistake of driving in the wrong direction along the motorway's exit slip-road on October 23.
Motorway officers arrested Papachin shortly afterwards and charged him with dangerous driving.
The court heard that the lorry driver took his actions after a nearby payment booth would not take his card and he could not converse understandably with the intercom service.
Police advise drivers to contact them immediately if faced with similar problems.
Copyright Press Association 2014