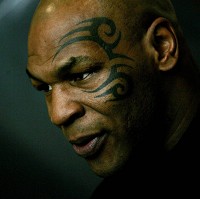 The sight of Mike Tyson looking down at you while you lay injured on the floor is one all too familiar for countless heavyweight boxers in the 1980s and 90s.
But when motorcyclist Ryan Chesley saw the former boxing champ standing over him, he hadn't been on the wrong end of a knockout punch.
Instead, the 29-year-old had just been involved in a traffic accident after coming off his bike when a taxi cut him up on the interstate in Las Vegas.
Tyson was shouting at bystanders, telling them not to touch Mr Chesley until paramedics arrived, as they could inadvertently make his injuries worse.
The injured biker managed to take a picture of Tyson with his mobile phone, before the legend vanished from the scene "like some kind of superhero" when the ambulance got there.
Tyson's assistant said the former boxer received a handwritten letter from Mr Chesley thanking him, along with a fruit basket.
Mr Chesley is now recovering and out of hospital after suffering broken bones and torn ligaments in the accident.
Copyright Press Association 2014