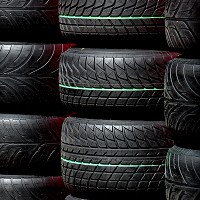 A tyre services company has urged travellers planning a self-drive skiing or snowboarding trip to continental Europe to consider switching to winter or all season tyres.
Micheldever Tyre Services/Protyre said drivers in most European countries either have two sets of tyres - summer and winter tyres - or a set of all season tyres which can be used in any kind of weather.
If they are found to drive with summer tyres in the winter, they might run into problems when trying to make a claim on their car insurance .
By contrast, most motorists in the UK use summer tyres all year round, although the company reported a rise in the sale of winter or all season tyres in recent months.
As the number of people choosing a self-drive holiday to European ski resorts is on the rise, Micheldever Tyre Services recommended that drivers switch to the European system and carry out a number of safety checks before setting off.
These include checking the general condition of their tyres, checking the pressures and also checking the tread depth is a minimum of 3mm.
Copyright Press Association 2012