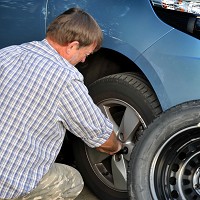 Parents who drive their children to school should make sure the tyres on their car are in good condition before the end of the summer break.
That is the advice from road safety group Tyresafe, after research revealed around a third (30%) of vehicles arriving at a primary school in Shropshire to drop off children had illegal tyres.
Tyresafe chairman Stuart Jackson says when children go back to school there will be many more cars on the country's roads during peak times, so it is crucial that their tyres are in a good condition.
Sustrans and Department for Transport data shows parents make 11 million school-runs between them every day and 1,200 people are killed or injured every year in accidents involving cars with poor tyres.
Three simple checks are all that is needed, Tyresafe says.
Tyre pressures should be at the recommended levels shown in the car handbook, inside the fuel cap or on the sill of the driver's side door.
Tread depths should be at least 1.6mm across three quarters of the centre of the tyre all the way around, and tyres should be free of bulges and cuts.
Copyright Press Association 2014