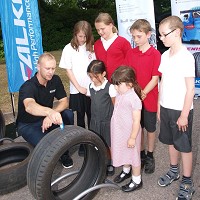 Parents were given a road safety lesson after a third of the cars tested outside a primary school were found to have illegal tyres.
The safety check, conducted by tyre maker Falken, found eight of the 25 parents' vehicles tested had a tread depth below the 1.6mm legal requirement. Another had a nail in a tyre with two more cars having tyres over a decade old.
The results mirror research by Falken's UK distributor Micheldever which found that 56% of the tyres it removed in June had an illegal tread depth, up from just 15% only five years ago.
Su Plant, headmistress at Moorfield Primary School in Newport, Shropshire, said: "We regularly address road safety with the children, but it would seem that parents need more information about the importance of tyre safety."
Falken's UK director, Matt Smith, said the school check confirmed dealers' findings that a "significant" proportion of motorists were using illegal or dangerous tyres, a trend likely to result in more accidents and car insurance claims.
He added: "Tyres are a crucial element in road safety and for a number of reasons it is often a distress purchase, left until the last minute."
Copyright Press Association 2013