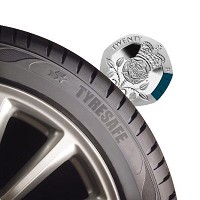 Drivers are being urged to make sure their tyres are safe after reports suggested the UK could be set for 10 years of wet summers.
"The good news is that it's incredibly easy to see if you have adequate tread depth just by using a 20p coin," said Stuart Jackson, chairman of TyreSafe.
"Simply take the coin and insert it into the main grooves of the tyre. When it's been inserted and if you can see the outer band of the 20p then the tyre may not have sufficient depth and should be checked by a qualified specialist," he explained.
With tyres renowned as a key part of safety and potentially impacting on other aspects of car maintenance, motorists wanting to avoid crashes and car insurance claims might want to heed Mr Jackson's advice.
Insufficient tread depth carries a risk of longer stopping distances, less grip and a greater chance of aquaplaning.
With stopping distances said to be at least double those on dry roads, tyre safety appears more important than ever in wet conditions.
By law UK drivers must have a minimum of 1.6mm of tread depth across the central three quarters of the tyre, around its entire circumference.
Failure to comply with the rules can result in three penalty points and a fine of up to £2,500 for each illegal tyre.
Copyright © Press Association 2013