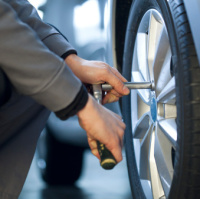 Motorists are being urged to make sure their tyre pressure monitoring systems (TPMS) are working properly after it emerged faulty ones have caused thousands of vehicles to fail their MOT.
The TyreSafe charity has issued the advice after finding that the problem has resulted in almost 20,000 MOT failures.
The technology monitors air pressure inside tyres to ensure that they are safe to be driven on.
If installed, the electronic systems need to be functioning properly in order for vehicles to pass their annual safety tests.
TyreSafe is warning drivers that while the systems can fail, they do not always alert the driver when they do.
The charity's chairman, Stuart Jackson, says with correct tyre pressures being vital for road safety, properly working monitoring sensors can potentially save lives.
Motorists can ensure their systems are working properly, he adds, by having them checked and serviced regularly. Doing that, Mr Jackson says, will help their vehicles meet MOT requirements and cut the risks of tyre-related road accidents.
TyreSafe is also advising motorists that if a TPMS sensor has failed they should never replace it with a "standard" valve.
Find out more about or visit the for pumps, tyre repair kits and more.
Copyright Press Association 2016. Motoring News articles do not reflect the RAC's views unless clearly stated.