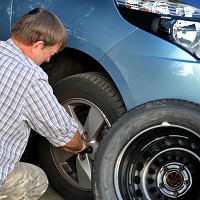 More than half of UK motorists do not carry out any form of tyre maintenance, according to a new survey.
Commissioned by Blackcircles.com, the survey quizzed 1,176 participants and revealed that 67% did not know what model or brand of tyre was fitted to their vehicle. Furthermore, 56% of people did not carry out any tyre maintenance themselves and 77% of women don't check and maintain their tyres at all. It was also found that women were three times less likely to check and maintain their tyres than men.
Michael Welch, managing director of Blackcircles.com commented: "A large proportion of the British population do not take an active interest in maintaining their tyres, but I'm sure they would if they knew the road safety implications."
Regardless of the potential impact onbreakdown cover costs, getting tyre maintenance right can also impact on both safety and fuel efficiency.
It will take a car five metres longer to brake if the tyres are five pounds per square inch (psi) under-inflated. Also, a tyre under-inflated by 15 psi can increase rolling resistance which can lead to a greater fuel consumption of up to 6%.
Copyright Press Association 2013