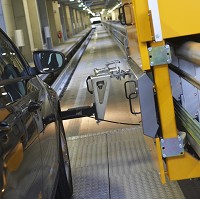 Continental has created a groundbreaking new facility which aims to improve the grip of tyres and further cut braking distances.
The Automated Indoor Braking Analyser (AIBA) is located at the company's Contidrom testing facility in Germany. It can simulate a variety of road conditions courtesy of interchangeable 120-tonne sections of road, a rain simulator and an ice room.
Vehicles as heavy as 3.5 tonnes are connected to a carrier system, which equates to the length of two and a half football pitches, before being propelled at a speed of up to 75mph. The vehicle automatically brakes on the selected road surface.
The facility is expected to set Continental back almost 11 million euro but should allow the company to cut testing time on any tyre by 70%.
Continental will be able to perform in the region of 100,000 individual braking procedures each year once the facility is finished.
"With this new facility at our test track, we benefit from the most accurate braking test procedures in the world," said David O'Donnell, head of R&D for passenger and light truck tyres at Continental.
"The AIBA enables us to conduct tests all year round under fully air-conditioned test conditions on interchangeable road surfaces with constant friction coefficients."
Copyright Press Association 2013