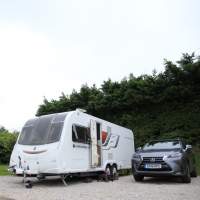 As one of the busiest-ever UK bank holiday getaways begins, those hitting the roads with a caravan are being reminded to prepare responsibly.
The RAC expects around 15.3 million cars to use major roads for leisure journeys between Friday and Monday - over a million more than the late Spring weekend last year.
As such, Bridgestone Tyres is urging caution among all active caravan owners when it comes to their pre set-off checklist.
When a caravan or trailer tent is used just once or twice a year, its tyres can fall victim to 'flat spots'. This is where the rubber deforms due to the significant weight pressing down on the same point for long periods, and can jeopardise the safety of all road users when moving at high speeds.
Irrespective of how they actually look, if a set of tyres has not been changed for 10 years they must be replaced, the tyre giant warns. Rubber naturally degrades over time and grip can be easily compromised, regardless of the superficial appearance of tread depth or general condition.
As chairman of TyreSafe, Bridgestone's Stuart Jackson has been vocal in encouraging holiday-goers to keep out an eagle eye for any deterioration, signs of age, cracks to the sidewall or carcass deformation before heading out onto the roads.
Mr Jackson says using tyres which are correctly inflated for the applied load is a safety essential regardless of the vehicle; be it towing car, motorhome, caravan or trailer tent.
"Tyres that are driven under inflated for extended periods are more likely to suffer from rapid wear which could lead to a sudden and rapid deflation, causing loss of control," he said. "Debris left on the carriageway after a tyre failure could prove hazardous for other motorists."
He continued: "We never recommend the dangerous practice of fitting a replacement tyre on the hard shoulder and roadside safety advice issued by Highways England should always be observed."
Paying attention to tyre inflation also means a far more even 'wear rate', which in turns leads to a longer life and reduced costs for the owner.
It is also essential, having checked pressure, that valves are seen to be not leaking and all caps securely fitted. Correct inflation pressures for car tyres can be found in a vehicle's owner's handbook.