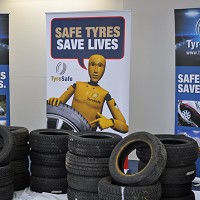 Road users are at serious risk of injury due to cash-strapped motorists driving with worn out tyres, a campaign group has warned.
TyreSafe has urged drivers to check the condition of their tyres following a four-week investigation in which it obtained a random sample of 50 part-worn wheels, 98% of which were found to have been sold illegally.
More than 30% of these tyres had incurred dangerous forms of damage, including one which encased a metal object that penetrated 5cm through the tread. The inspection engineer warned this had the potential to kill road users in the likely result of sudden tyre failure.
Other serious safety breaches included dangerous and unsafe repairs, exposed cords, bead damage and evidence of run-flat damage.
"Not only are drivers putting their own lives at risk, but they are also endangering their passengers, which in many cases may be their children, and other road users," said TyreSafe chairman Stuart Jackson.
Copyright Press Association 2012