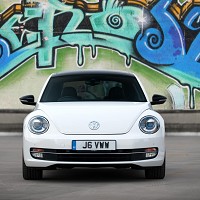 Volkswagen has revealed a new petrol Beetle that will be priced lower than any previous model and a new low cost, low carbon diesel version.
The new petrol model cuts the range's on-the-road price by £1,405 and is fitted with Volkswagen's acclaimed 1.2-litre TSI turbocharged petrol engine and a six-speed manual gearbox.
Starting at £15,195 it will be available in a basic 'Beetle' trim and with slightly better-equipped 'Design' option.
The new diesel model will start at £17,030 and will also be available in the same low-cost trim options.
It will be equipped with a 104bhp version of Volkswagen's 1.6-litre TDI, with BlueMotion Technology, and will offer 65mpg with CO2 outputs of just 113g/km.
Including manual and automatic gearboxes, engine sizes from 1.2- and 2.0-litres with power outputs of 104bhp to 197bhp, and CO2 figures between 113g/km and 197g/km, the Beetle range covers a huge array of option and is now available from £15,195 to £24,505.
Copyright Press Association 2012