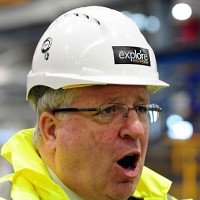 There are now only two options left for a new road east of London crossing over the River Thames.
This follows the Government's scrapping of one of the plans, for a Lower Thames Crossing to link Essex with Kent. The discarded scheme would have seen a crossing to join Essex's A1089 with Kent's A2 Swanscombe Peninsula.
Transport Secretary Patrick McLoughlin reported the decision on Thursday claiming the consultation, which brought 5,700 responses, has shown it to be the "least attractive" of the three choices.
Additional work will be undertaken on the two remaining options to help future motorists setting theirjourney planners from Kent to Essex or vice-versa. One involves constructing a bridge by the QE2 Bridge at the Thurrock-Dartford crossing.
The other would see a bridge linking the M25 between junctions 29 and 30 north of the Thames in Essex with the M2 in Kent.
Mr McLoughlin said: "Ruling out the least attractive option now gives some clarity for local residents and businesses."
He said the Government is committed to making a decision on the new crossing's location as quickly as possible.
Copyright © Press Association 2013