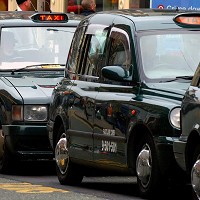 A taxi driver received nine penalty points on his taxi licence after undercover council officials caught him watching a football match on his mobile phone while driving.
Two officers from Charnwood Borough Council were travelling from Loughborough rail station to a hotel on Ashby Road in June as part of a standard licensing operation.
They were taken aback when the driver put his phone on the dashboard and began to watch the match. The officials were also overcharged for the journey.
The driver, who has not been named, admitted two offences when faced with disciplinary action. If he exceeds 12 penalty points in a year, he could be stripped of his taxi licence, subject to a hearing.
A Charnwood Borough Council spokesman said the man was guilty of "misconduct regarding the charging of fares" and for failing to "take all reasonable precautions to ensure the safety of passengers", under the Town Police Clauses Act and Local Government (Miscellaneous Provisions) Act.
Copyright Press Association 2012