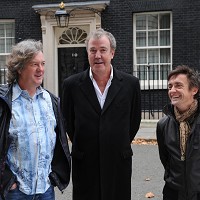 Car fans can expect to see BBC show Top Gear and its famous hosts Jeremy Clarkson, James May and Richard Hammond on their screens for at least three more years after the trio penned new deals.
The show's executive producer Andy Wilman joined the trio in agreeing new contracts for undisclosed sums with BBC Worldwide, the commercial wing of the corporation. Top Gear is one of its biggest money-spinners thanks to the show being exported and large sales of books and DVDs.
The arrangement will see BBC Worldwide taking full control of Bedder 6, a joint project it ran with Clarkson and Wilman, who had a 50% stake between them. They received an annual dividend, with Clarkson making £2.7 million.
All three presenters and Wilman have agreed contracts to work on the Top Gear brand for the next three years and are likely to appear on the show for that period.
The figures involved have not been announced because of commercial confidentiality, but speculation will be rife that it will involve a considerable sum to make up for the Bedder 6 deal.
Copyright Press Association 2012