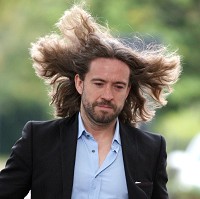 Comedian Justin Lee Collins has been fined after he was caught speeding on the motorway.
Collins, 38, pleaded guilty to driving his Mini Cooper at 76mph in a 50mph limit on the M5 motorway between junctions 16 and 17 in Gloucestershire.
He had been due to stand trial at Bath Magistrates' Court in Somerset but changed his plea to guilty over the offence, which happened in September last year.
Collins, who was not in court as he entered his guilty plea by post, was ordered to pay out a total of £327.
The court heard that the star, who had no previous points on his licence, initially pleaded not guilty to the offence before changing his plea.
Magistrates' chairman Peter Norris, said: "For this offence we take into account the guilty plea. There will be a £266 fine, a £26 victim surcharge and £35 in costs with six penalty points."
Collins, of Shad Thames, Bermondsey, London, was convicted of harassing his former partner Anna Larke at St Albans Crown Court in October 2012.
Copyright Press Association 2013