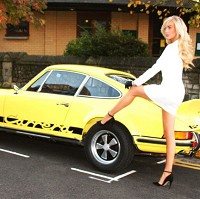 A rejuvenated classic Porsche 911 is to feature in a new TV series following the lives of successful British career women.
The original light yellow 911 Carrera 2.7 RS Touring was provided to 'Brit Chickz' by Oxfordshire-based Autofarm, an independent specialist in Porsche vehicles alone.
The rare classic has been praised for its legendary status among fans as well as its lightweight, nimble handling.
Autofarm said the car, one of only 1580 produced, was imported to the UK from Germany in 1985 and it has recently been subject to a detailed re-commission "of the highest order".
Rallied as the "ultimate classic 911" among enthusiasts, the 2.7 RS has recently featured alongside 21-year-old model and brand ambassador Harriadnie Beau.
She said she was thrilled to have an opportunity to get behind the wheel of the Carrera, adding that is reflects her mantra as a career woman - "do not settle for less than the best".
The car is now available to buy, with a similar vehicle restored by Autofarm selling for £500,000 earlier this year.
Copyright Press Association 2014