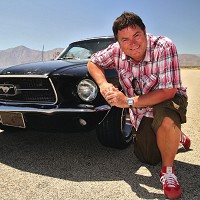 A new guide to buying and selling classic cars could prove the ideal Father's Day gift for dads who dream of owning a slice of motoring history.
The book has been penned by Mike Brewer, co-presenter of the Discovery Channel's Wheeler Dealers show.
The Wheeler Dealer Know How! aims to steer readers through the minefield of classic car dealing, with chapters on buying, owning and selling vintage automobiles.
The former car trader also offers buyers' guides to a number of classics, from a Mini to a Mercedes S-Class and a Triumph Spitfire to a Bentley Turbo R.
The book provides a variety of hints and tips on making the leap into classic car ownership, although those tempted to take the plunge should remember to factor in the cost ofcar insurance before making any purchase.
The book also contains guidance on commonly encountered problems and how to fix them, inspecting a car before buying, avoiding stolen vehicles and how to import a car from abroad.
Copyright Press Association 2013