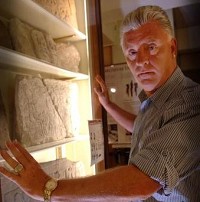 TV psychic Derek Acorah has been banned from driving for 28 months following a car crash.
The star of TV's Most Haunted, whose real name is Derek Johnson, admitted failing to provide a breath test and driving without due care and attention when he appeared at Bootle Magistrates' Court.
The court heard Bootle-born Acorah had sped around a roundabout and veered across the carriageway before crashing into another car on Scarisbrick New Road in Southport on December 7 last year. The other vehicle was left written off with its driver suffering with whiplash, cuts and bruises.
Magistrates heard the 64-year-old medium had failed a breath test at the scene but then refused to take a further on at the police station.
As well as being disqualified he was fined £1,000 and ordered to pay £85 costs and a £100 victim surcharge.
Following the case senior district Crown prosecutor Philippa Kennedy said the star's driving "could have caused serious injuries".
She said the case showed that "no one is above the law", adding that it was hoped the sentence would "send a strong message to all those who fail to drive without the required care and put others at risk".
Copyright Press Association 2014