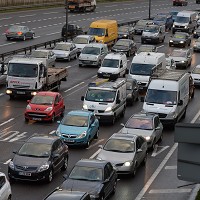 A strike on the London Underground has caused widespread disruption across the capital.
Roads were gridlocked as early morning commuters swapped tubes for buses and cars as they tried to beat the rush.
Queues also built up at train stations and river boat stops throughout the city.
Union leaders have accused Transport for London (TfL) of under-estimating the impact of a 48-hour strike over controversial plans to close all Tube ticket offices.
Services were hit on Tuesday night immediately after the action got underway, spilling over to Wednesday morning as picket lines could be seen mounted outside Tube stations.
But London Underground insists it was still operating train services on eight out of 11 lines.
It also claims it is working hard to keep customers informed and ensure London carries on moving despite the "completely unnecessary" strike.
The wet and windy weather that is sweeping across the UK has contributed to the disruption on the roads.
In light of the difficult conditions, motorists are advised to check routes before they travel andplan their journeys accordingly.
Copyright Press Association 2014