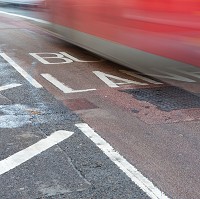 A bus lane in Cornwall has been closed after it caused traffic jams that tripled journey times for motorists.
The lane in Tregolls Road, Truro, only opened on 2 November as part of a £12 million park and ride scheme part-funded by Cornwall Council.
But the authority admits the 300m (980ft) stretch of road has not achieved what was intended.
It has apologised for not getting the traffic predictions right. Journey times for the three miles from Tresillian to Truro had tripled to 21 minutes, while workers at a local food company reported commutes of 1.5 hours.
The bus lane cost £30,000 and will cost another £30,000 to remove, although Councillor Bert Biscoe says the cost was covered in the scheme's contingency spending and was a very small amount of council tax money.
He adds the lane was not achieving a more balanced flow of traffic nor benefiting bus users.
While it has been closed, the lane cannot be removed until January at the earliest because the council is now obliged to consult on the change.
Motoring News articles do not reflect the RAC's views unless clearly stated.
Copyright Press Association 2015