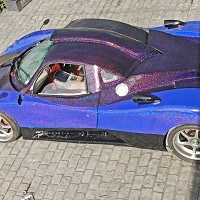 A car enthusiast has constructed a replica Pagani Zonda after sourcing the vast majority of its parts through online auction site eBay.
Not content with owning a vintage Ferrari sports car, Nick Truman managed to snap up a used Jaguar V12 engine for £89 on eBay in 2010 and said at the time that he planned to use it to build something 'insane' and 'exotic'.
He decided to replicate a £750,000 Pagani Zonda and the man behind the design, Horacio Pagani, gave his permission.
Nick bought every part on eBay other than the metal for the chassis of the car, with many of the components coming from a 1993 Ford Scorpio and a 1991 Audi V8 Quattro.
He won't be able to get car insurance to drive it on the road, but Nick thinks his recreation will reach 190mph and go from 0 to 60mph in under three seconds. He will know for sure when he puts it through its paces on a racetrack sometime in 2015.
He released YouTube videos of the build and has gained a host of fans. Top Gear presenter Richard Hammond is thought to be one of them.
Nick hopes other people will use online auction sites like eBay to make similar creations and a spokesman for the site, Steven Heywood, says what Nick has done is incredible.
Copyright Press Association 2014