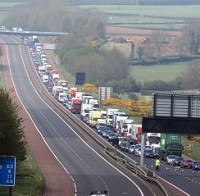 Truck firm leaders have welcomed plans to spread "smart motorways" from the British mainland to Northern Ireland.
The Freight Transport Association (FTA) says the scheme's increased rush-hour capacity would reduce accidents, emissions and journey times if implemented for drivers setting their journey planners to Belfast.
TransportNI plans to make the M2 and M1 serving Belfast smart motorways, which would see hard shoulders converted into carriageways mainly to ease traffic jams.
Similar projects have already been running on mainland Britain for nine years and have received a mixed reaction from drivers and motoring organisations alike.
Over seven in 10 (71%) motorists admit they would feel unsafe if a motorway was without a hard shoulder.
The RAC's primary worry last year was the permanent use of motorway hard shoulders. It said alternative emergency refuge sections would be spaced out further apart (a maximum of 2.5km) than hard shoulders (500-800m).
Seamus Leheny, Northern Ireland's policy and membership relations manager for the FTA, says TransportNI's plan to use hard shoulders for incoming and outgoing traffic in Belfast must be seriously considered.
He says the Northern Ireland capital suffers frequent heavy traffic jams during its peak periods. Mr Leheny believes that the new smart motorway plan will mean lower emissions, fewer crashes and better reliability regarding journey times into Belfast Harbour and the city centre.
Transport NI's new report also considers limiting motorway hard shoulder usage to buses and lorries to get the city's freight moving.
Copyright Press Association 2015
ttp://www.rac.co.uk/advice/motoring-news/mixed-response-to-smart-motorways (mixed reaction)