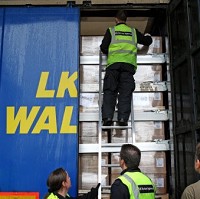 Lorry drivers are gearing up to blockade the Port of Dover on Saturday as part of a protest against tough fines for those found with stowaway illegal immigrants in their vehicles.
The Facebook group that announced the planned action, Support the Calais to Dover Truckers, has over 3,000 followers.
Claiming truckers are being treated as scapegoats, the Freight Transport Association (FTA) is calling on French and UK governments, as well as the European Union, to tighten border controls in Calais and across the continent.
It is the drivers who face fines of up to £2,000 per stowaway. But haulage firms claim their employees are helpless to stop it, with migrants seeking to get across the English Channel finding increasingly cunning ways to board UK-bound lorries.
Kevin King, managing director of the Dover-based Heritage International Transport, says the problem of migrants attempting to get into Britain by boarding lorries in Calais is getting worse.
He says one of the firm's trailers, worth £30,000 and being pulled by a sub-contractor, has been indefinitely impounded by the French government after being found with illegal immigrants in.
But he says hauliers calling for action do not feel they are being listened to.
Kent Police says it is working with various agencies to ensure Saturday (September 27) afternoon's protest passes peacefully.
Copyright Press Association 2014