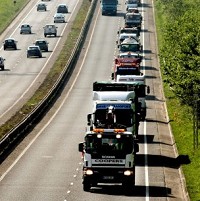 Motorists can expect lorry drivers to travel faster along dual carriageways from next spring.
Ministers have announced that the speed limit for HGVs will rise to 60mph from 50mph, on April 6.
A similar increase for HGVs along single carriageways from the same date had already been revealed earlier this year. Previously, lorry drivers exceeding 50mph on these roads risked points on their licence, a fine and increased premiums on their lorry.
RAC head of external affairs Pete Williams said: "This must be seen as progress as lorries moving at 50mph can create congestion in their own right.
"Developments in brake technology mean there is no loss of safety by raising the lorry speed limit to 60mph, in fact it could actually improve safety in the long run at the same time as benefiting overall traffic flow. It may also help to do away with some of the frustratingly slow overtaking manoeuvres that motorists see when one lorry attempts to pass another around the 50mph mark."
Claire Perry, the Transport Minister, said the speed increases reflect better lorry technology and the requirements of modern-day transport networks.
She said that Britain is already among the world's safest countries to drive in and she is eager to see this continue.
The dual carriageway speed announcement coincided with the findings of a Government consultation concerning new measures to tackle lorry drivers who don't comply with legally-required rest periods.
It found that there is definite backing for plans to issue offenders with on-the-spot fines.
Neil Greig, from the Institute of Advanced Motorists, said the HGV speed limit overhaul is "long overdue" as modern lorries are far safer.
Copyright Press Association 2014