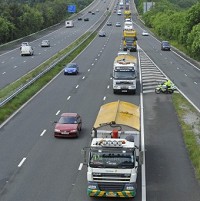 A 50,000 shortfall in lorry drivers is putting the prompt arrival of Christmas deliveries at risk, according to a leading trade organisation.
The Road Haulage Association (RHA) is urging the Government to take immediate action to ease the problem.
RHA officials say that HGV deliveries peak during the festive period and fear that the weeks leading up to Christmas will expose the "grave" shortfall.
It says last year's holiday season saw truckers deliver huge amounts of Christmas puddings (25 million), turkeys (10 million), Christmas trees (8 million) and sprouts (9,875 tonnes).
RHA chief executive Richard Burnett says the 50,000 HGV driver shortage is worsening. He claims that truckers are quitting the profession without being replaced because youngsters cannot find the £3,000 required to get their lorry drivers' licence.
It is a problem that has been rumbling on all year. In February both the RHA and Freight Transport Association (FTA) issued a statement claiming that the current lack of lorry drivers will affect the growth of the UK economy.
Mr Burnett says the current National Lorry Week's (October 26-31) activities will raise awareness of the matter.
Meanwhile, he says the shortfall puts Christmas deliveries at real risk. Mr Burnett believes ministers are not giving the industry the support they should by backing HGV apprenticeships.
They are instead, he says, obligating bigger lorry companies to fork out for the newly introduced apprenticeship tax. This is merely a payroll tax, Mr Burnett claims.
Over 85% of products purchased in Britain are transported by lorries during the delivery procedure. The industry employs far in excess of two million workers.
A national initiative to employ more lorry drivers is being introduced in 2017. But the industry is worried that the consequences of the trucker shortage will have already started to bite deep into the country's economy by then.
Copyright Press Association 2015