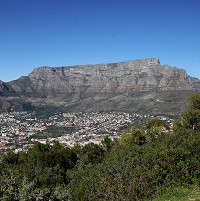 Three pub workers are hoping to toast a new world record by making the fastest land journey to Cape Town and raising £10,000 for charity on the way.
Ben Worth, Tony Cole and Steve Hancock, who all work at the Admiral's Table in Bridgwater, Somerset, will drive a Land Rover - known as Snoopy - a distance of more than 11,000 miles in 21 countries to get to the very bottom of Africa.
They are making the trip in aid of the bibic charity that helps families who care for children with autism, cerebral palsy, Down's syndrome and other conditions.
The trio make up the Drive4Change team and will take it in turns to drive 24 hours a day to beat the record of 14 days, 19 hours and 26 minutes set two decades ago.
Snoopy has been modified to cope with a wide variety of terrains, including deserts, country tracks and potholed roads as well as motorways and the team should have the ability to cope with any breakdowns on the way.
They will need a security guard to drive through the Middle East and Egypt and an armed escort in Iraq.
Copyright Press Association 2013