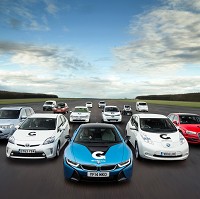 Three more major car manufacturers have thrown their weight behind a government low-carbon initiative.
Audi, Mitsubishi and Volkswagen have joined BMW, Renault, Nissan and Toyota in backing the Go Ultra Low campaign, which is aimed at raising awareness of ultra-low-emission vehicles (ULEVs).
All seven manufacturers produce ULEVs - which are kinder on the environment and also come with little or no road tax, as well as the possibility of a government grant of up to £5,000 towards the cost.
A total of 15 ULEVs are offered between the seven manufacturers, including Nissan's Leaf, the Renault Zoe, the Volkswagen e-Golf and Mistubishi's Outlander PHEV.
Transport Minister Baroness Kramer welcomed the three new manufacturers which have backed the scheme. She said the seven manufacturers which are part of the Go Ultra Low campaign make a range of ULEVs which demonstrates the different styles and prices available.
She hopes the scheme will demonstrate what is on offer and the financial assistance available, adding that more and more people are seeing the benefits of more eco-friendly cars.
Last year in the UK, more than 14,500 ULEVs were sold.
It is thought that the cost of a journey in a ULEV can be as little as 2p per mile, compared with 10p per mile for a diesel or petrol vehicle.
Copyright Press Association 2015