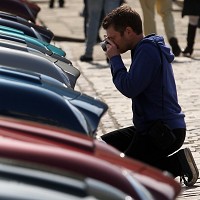 Vintage car owners have met to celebrate an iconic car which has become synonymous with an equally celebrated spy.
The Aston Martin Owners Club marked the 50th anniversary of the DB5 with a special meeting at the Old Royal Naval College in Greenwich, south east London.
The DB5 is James Bond's car of choice, and was first driven by in 1964 by Sir Sean Connery in Goldfinger, which was the third Bond movie. The car and 007 have, since then, shared a link and the classic silver model used in the most recent Bond film, Skyfall, was one of the stars of the show at the meeting.
The show boasted about 20 versions of the DB5 and about 50 Aston Martins in total. They were inspected by judges in white overalls, who were on the lookout for the best presented model. Also in the collection was a vintage DB2 in near-perfect condition. Produced in 1953, the DB2 is considered to be one of the world's first hatchbacks.
Paul Spires, general sales manager for Aston Martin said: "It is a terrific thing for Aston Martin to have the DB5 in the film again.
"The chassis number of this car is actually 007 and without Bond who knows where Aston Martin would be?
"You can't help but want to drive the DB5 with the black tie on - everybody that has got one of these cars wants to be a little bit of a James Bond inside."
All of the Bond cars will be on display in Kensington Palace on July 21 to celebrate the centenary of Aston Martin.
Copyright Press Association 2013