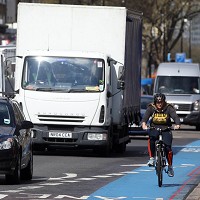 Tributes have been paid to a cyclist who was killed in a morning collision with a lorry in east London.
Hundreds of people gathered at the Bow roundabout for a vigil in memory of the 20-year-old woman who died at the scene - the fourth tragic cyclist death in the capital in just eight days.
The London Cycling Campaign launched the gathering, with a two-minute silence held and bikers riding slowly around the area on Wednesday evening.
The fatality, described as "a tragedy" by mayor Boris Johnson, is the twelfth cyclist death in London to date this year.
Police also revealed a man in his late 20s suffered life-threatening injuries following a crash with a lorry in Milbank on the same morning.
Francis Golding died on Friday following a collision with a coach on in Holburn, and last week a cyclist died after a crash involving a tipper lorry on Mile End Road on the cycle superhighway, CS2.
RAC technical director David Bizley said: "This tragic series of deaths in just a few days is yet another terrible demonstration of the well-known dangers that occur when heavy goods vehicles and cyclists share road space. While some routes, such as the London cycling superhighway are now being designed to segregate cyclists from traffic, elements of these designs need to be closely re-examined as they clearly are not working as well as they were intended.
"The recent launch of the DfT Think campaign on cycling safety is very timely and there are also a number of good initiatives being run by freight organisations aimed at improving safety between lorries and cyclists which become even more important each time incidents like these occur."
"The latest Government figures show that fatalities on our roads are at their lowest ever level, but that more cyclists are being killed or seriously injured. With more people taking to two wheels following our cycling successes at the Olympics and in the Tour de France more needs to be done to secure the safety of cyclists so that this figure does not continue to rise in the future."
Copyright Press Association 2013