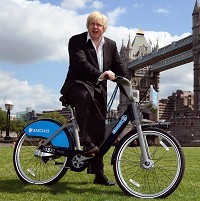 Londoners may find newly announced public travel fare rises giving them more reason to drive as London Mayor Boris Johnson has announced bus and Tube fare increases above inflation.
The changes involve an average rise of of 4.2% for the services. This average increase on buses and Tubes is the same as next January's rise for national main line season ticket holders.
Those living in and traversing the capital may be prompted to work on finding the quickest routes for their trips and taking advantage of ajourney planner .
But daily hirings of the so-called Boris bikes will double from £1 to £2, weekly access is to cost £10 instead of the current £5, and membership of theBarclays Cycle Hire scheme doubles from £45 to £90.
Most trips on "Boris bikes" are made within a free 30-minutes usage charge time and there will be no rise in charges for late return, non-return and bicycle damage.
The mayor pledged to detail more investment on transport before the end of this year. This, he said, would help to provide quicker, more frequent and reliable trips, something which was essential to economic development and growth.
Copyright Press Association 2012