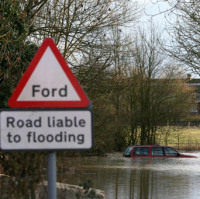 Motorists have been issued with a warning about the dangers of driving into flood water after a man had to be rescued when his car got stuck in a ford.
Firefighters from Essex Fire and Rescue had to pull the driver to safety after he got trapped in his car at Ingatestone near Chelmsford.
The firefighters waded into the water and used an inflatable sled to help get the motorist safely back to the side of Buttsbury Wash.
A spokesman says each year the fire and rescue service has to rescue dozens of drivers who have become trapped in their vehicles after venturing into flood water.
Those motorists, he adds, are risking their own safety as well as that of their passengers while tying up emergency crews that may be needed elsewhere.
As little as a foot or two of water, the spokesman says, can be enough to float a car. Just six inches of water, meanwhile, can cause an engine to stall or result in a driver losing control of their vehicle.
Copyright Press Association 2016. Motoring News articles do not reflect the RAC's views unless clearly stated.