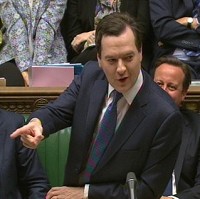 Transport was the big winner as Chancellor George Osborne announced new spending plans, with roads and rail to receive major cash boosts.
Mr Osborne said the Department for Transport would have to shrink daily spending by 9% but would see its capital budget increase to £9.5 billion in 2015-16. He has guaranteed the greatest investment in roads for five decades, and in railways since the Victorian era.
Mr Osborne has revealed that Chief Secretary to the Treasury Danny Alexander is set to disclose information on over £100 billion worth of infrastructure projects, including plans for a new £600 million, six-lane motorway bridge over the Mersey between Runcorn and Widnes.
Campaign for Better Transport chief executive Stephen Joseph was not impressed by Mr Osborne's announcement. He fears major roads will be created in the countryside at the expense of local needs.
"Massive spending on new roads might have been in vogue 50 years ago, but what the country needs now is better management of our increasingly potholed network and to provide real choices about how to get around," said Mr Joseph.
"The cuts in revenue spending will condemn us to poorly maintained roads, more expensive train fares and cuts in bus services."
Copyright Press Association 2013