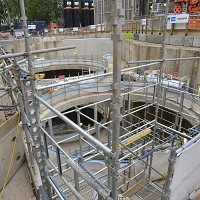 Ten major transport projects said to be key to UK business growth are "stuck in the slow lane", according to the British Chambers of Commerce (BCC).
Only three of 13 crucial projects are moving forward. Two of the 10 remaining have been given some funding, while the other eight have been postponed, cancelled or are being considered.
The BCC said the Government needed to act bravely to better the country's transport infrastructure.
"While the Government has taken important steps to boost infrastructure funding and delivery since the first Budget, the updated assessment shows that too many transport projects, which are crucial to business growth, are stuck in the slow lane", the BCC said.
The three projects the BCC had identified that are currently underway include the Birmingham Motorway Scheme. Due to be finished in spring 2014, this project involves posting variable speed limits and enabling cars to drive on the hard shoulders of the M5, M6, M40 and M42.
The Forth Replacement Crossing is the second project. In January 2011 the Scottish Government and Transport for Scotland gave the approval for the replacement of the crumbling road bridge. It is due to be completed by 2016.
The third project is London's Crossrail link, which will increase the capital's transport capacity. Work on the major project is going ahead and is due to be completed in 2019.
Copyright © Press Association 2012